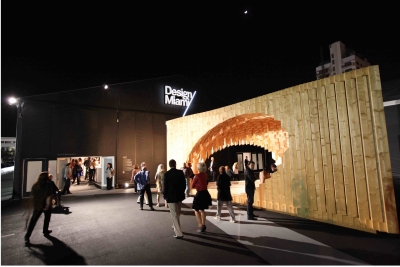 Visitor Information
Location
Design Miami/ will create a new exhibition venue adjacent to the Miami Beach Convention Center, a short walk from Art Basel Miami Beach.
Meridian Avenue & 19th Street
Adjacent to the Miami Beach Convention Center
Miami Beach, USA


Show Schedule
Preview Day (By invitation only):
Tuesday, 4 December 2012
Collector's Preview, 12-6pm
Vernissage, 6-9pm
General Show Hours:
Wednesday, December 5, 11am-9pm
Thursday, December 6 - Saturday, December, 9,12-8pm
Sunday, December 9, 12-6pm
Tickets
Tickets can be purchased for entry to the fair Wednesday to Sunday, 5 - 9 December.
General Admission: USD 25
Students & Senior Citizens (with valid ID): USD 15
Combination ticket Design Miami/ and Art Basel Miami Beach: USD 55

Tickets are valid for one day only.

Guided Tours
Join Cooper-Hewitt, National Design Museum's Assistant Curator, Andrea Lipps, on a tour of highlights from Design Miami's gallery program.

Thursday, Dec 6th / 12-1pm
Friday, Dec 7th / 12-1pm
Saturday, Dec 8th / 12-1pm

To pre-book private or group tours please visit http://cooperhewitt.org/designmiami

Travel & Accomodations
Design Miami/ has made a selection of hotels available for visitors in Miami Beach through Turon Travel, Inc., the designated travel agency of Design Miami/.
Based in New York, Turon Travel is dedicated to creating an expedient and fully accessible travel network for the Arts Communities, providing reduced rates from hotels, airlines and car rental companies.
For further information please visit:
Turon Travel.com/Design Miami
or contact:
Email: designmiami@turontravel.com
Phones: 212 925 5453 / 800 952 7646
Fax: 212-219-1865
2 Wooster Street
New York, NY 10013
USA
Official Website of Miami Beach
http://web.miamibeachfl.gov/
Official Website of Miami Beach Visitor and Convention Authority
http://www.miamibeachvca.com/
Future Show Dates:
Design Miami/ Basel 2013:
June 10 (Preview Day)
June 11 - 16
Design Miami/ 2013:
December 3 (Preview Day)
December 4 – 8
Design Miami/ Basel 2014:
June 16 (Preview Day)
June 17-22
Design Miami/ 2014:
December 2 (VIP Opening)
December 3 – 7
Design Miami/ Basel 2015:
June 15 (Preview Day)
June 16-21
Design Miami/ 2015:
December 1 (VIP Opening)
December 2 – 6